Customer's visit in The Maritimes: B-Wrap® success
20/07/
2016
It's always a great day when one can make it out of the office, so when I had the opportunity to assist a beef farmer in the fields that was using the B-Wrap® by John Deere for the first time, I jumped to the opportunity. It is one thing to make the sale, but us at Tama we like to go the extra mile to make sure our customers are completely satisfied with our products. Read more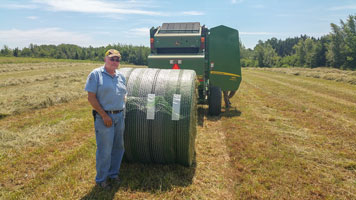 On July 14th 2016, I had the chance to hit the fields to visit Mr. Ross Bonnyman, a beef farmer from Tatamagouche, Nova-Scotia Canada and customer of Green Diamond Equipment located in Lower Onslow NS.
Arden Little, the service technician at Green Diamond Equipment and myself spent a few hours with Mr. Bonnyman, bailing hay with his JD 459 using the new John Deere B-Wrap® netwrap, the alternative to indoor storage. We stayed until all the setups were perfect and that Mr. Bonnyman was comfortable baling with this new product. Here are some pictures of the end result, I must say that these are some great looking bales and the best part is that these bales can be left outdoors for up to 18 months with minimal spoilage.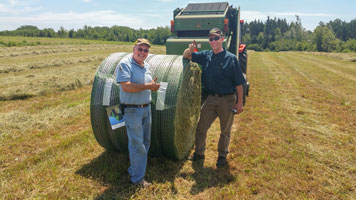 A big thank you to Mr. Ross Bonnyman for welcoming me in his fields and Arden Little from Green Diamond Equipment to make this customer visit a success. Tama Canada always appreciate the opportunity to meet and get any feedbacks from customers who uses our products.